gst123
The program gst123 is designed to be a more flexible command line player in the spirit of ogg123 and mpg123, based on gstreamer. It plays all file formats gstreamer understands, so if you have a music collection which contains different file formats, like flac, ogg and mp3, you can use gst123 to play all your music files.
Since gst123-0.1.0 support for watching videos has been added; however gst123 should run fine in situations where no X11 display is available; videos can be played without X11 display, too (-x, --novideo); in this case, only the audio stream will be played.
It is implemented in C++ and licensed under the GNU LGPL version 2
Getting gst123
The current version of gst123 is gst123-0.3.2, and can be downloaded here:
git clone http://space.twc.de/public/git/gst123.git
Overview of Changes in gst123-0.3.2
Support building with gstreamer 1.0 or gstreamer 0.10 (Issue 11).
Added "-a pulse" PulseAudio output support.
Fix time display updates (broken by introduction of quiet mode).
Properly quit player if none of the files in the playlist can be played.
Cleanup code to avoid compiler warnings.
[ more... ]
Documentation (gst123-0.3.2)
Issue tracker
If you have issues/bugs related to gst123, you can use the
issue tracker
at google code.
Discussion group
There is a group on google groups you can join to discuss questions related to using gst123 and development topics.
Famous Software Award & Interview
Gst123 has received an award and is "famous software".

There is also an
interview about gst123
available on this site.
Screenshot
Here is a screenshot of gst123-0.3.1 using the recently added visualization support (-v commandline option):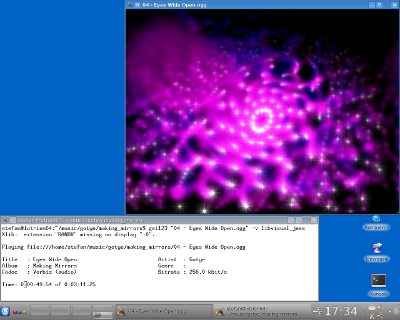 Building gst123 on Ubuntu
The following packages are required (and need to be installed with apt-get install before building):
build-essential
libgtk2.0-dev
libncurses-dev
If you're building against
gstreamer 0.10
, you also need:
libgstreamer0.10-dev
libgstreamer-plugins-base0.10-dev
If you're building against
gstreamer 1.0
, you also need:
libgstreamer1.0-dev
libgstreamer-plugins-base1.0-dev
Older versions
Older versions are